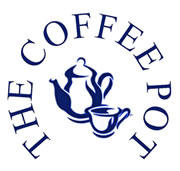 We are a Community Cafe situated at the heart of the Centre and is staffed by local residents, Stella, (Supervisor), Kelly (assistant) and our amazing volunteers.
We provide a variety of hot and cold drinks, cakes, snacks and sandwiches and of course lunch items. New items are always being added.
If you're in a hurry please contact us with your order and we will have your food ready for you when you come in or pre-order at the counter when you arrive.
Have a look at our full menu. Click link here:
The Coffee Pot is open Monday to Friday 9 a.m. to 2 p.m.
It is also open (with a more limited service of snacks and drinks) on Saturday mornings from 9 a.m.
We can provide a variety of buffet options (to suit your budget) for your functions or meetings at the centre please ask a member of staff for more information.
Volunteering at The Coffee Pot is a great way of making friends and learning new skills and we would love to have you as part of our team. If you are interested please ask a member of staff for more information and application form.
Contact telephone number for enquires and pre-orders : 07483339186
Email: caffepot@huttoncommunitycentre.com